Men's Team
1
Expert view: Mahrez will improve City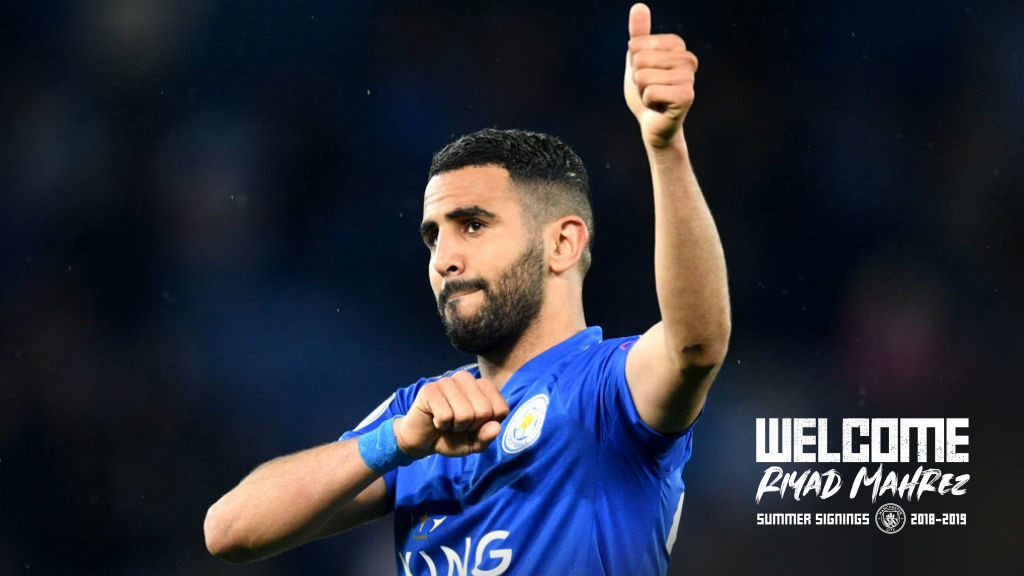 MAGICAL MAHREZ: Riyad is a Leicester great, says the BBC's John Bennett
Manchester City completed the signing of Riyad Mahrez on Tuesday, with the Algerian signing a five-year deal with the Club.
And to get the inside track on the winger, we spoke to BBC Sport's John Bennett.

John, thanks for joining us. What's the reaction going to be like from Leicester fans because Mahrez seemed very well liked there?
I think most of the fans saw it coming. Of course, they're going to be disappointed. Riyad Mahrez will go down as one of the greatest players in the history of Leicester City when you consider his contribution in the miracle season. He had some great moments.
I watched a compilation this morning and you forget just how many crucial goals he scored in that season and how many great performances he put in in the Champions League. But also going back to when Leicester got promoted, he was brilliant then as well. He had a wonderful history at the club.
Enjoy some of @Mahrez22's best moments for #lcfc 🔮#ThankYouRiyad pic.twitter.com/mD93JWy1e1

— Leicester City (@LCFC) July 10, 2018
So, of course, they're going to be disappointed. They're going to miss him. But in a way, there's probably a relief that it is all over because it has been coming for a long time.
It was clear Mahrez wanted to leave and the vast majority fans will have a positive feeling about him and will wish him all the best. He had a long stint at the club and created some magical moments for Leicester.
READ: Mahrez | What the football world said
READ: Mahrez | 10 things you need to know
City have got a lot of attacking talent. Do you think Mahrez, with his ability to beat players, can bring something a little bit different?
City have got some wonderful players, so I think he's going to have a lot of completion for places but he can bring something extra. Strength in depth is crucial and it'll be great for city to have that option of Riyad Mahrez.
I think he's going to be sensational for Manchester City. He's got quick feet, can beat players, fantastic passer of the ball, good finisher. In fact, I think his finishing is underrated, when you look back and see some of the goals he scored for Leicester City.
He works harder than people give him credit for. When Leicester won the league with a 4-4-2, he had to put a shift in, getting back to help the defence.
All-round, he's a fabulous player but his strength is beating players. You get him one-on-one with an isolated full-back, he will beat them, create chances and score goals for you.
He's had to fight to establish himself as a top-class player. What does that say about his character?
He's a strong personality, someone who has done it the hard way. Discovered quite late, he's not gone through the academy system like most players. He's had to really work hard to get to where he is, coming up at Le Havre, getting his chance at Leicester when they spotted him and took him in the Championship. Then he became an Algeria player, they took him to the World Cup.
He had to fight for his place as well, the first season that Leicester were back in the Premier League under Nigel Pearson and then when Ranieri arrived, it seemed to really click for him and we saw the absolute best of Riyad Mahrez.
But don't underestimate his personality – he's a strong character. We've seen that with his determination to join Manchester City. That will be really important because he might not always get in the team, but one thing's for sure he will fight for his place.
He'll be really determined, and he'll feel he is good enough for a place in the city lineup under Pep Guardiola.
Early in his career, some suggested he was perhaps to small and slight to reach the top. That's not been a problem for him in England, though, has it?
Full-backs try and rough up a tricky winger like him but I've never seen that be a problem for Riyad. He won't be put off or shirk out of challenges.
He's got great stamina and energy; he's not someone who Ranieri of Claude Puel or Nigel Pearson had to take off early. He rarely tired because he's got good energy, good strength, he doesn't mind strong challenges.
And when he's played for Algeria on some bumpy pitches in qualifying matches around Africa, he doesn't shirk a battle. He looks slight in frame but he's stronger than he looks.
What was his best moment for Leicester?
If you ask Leicester fans, that City game will be the one they remember! That jinking run and finish! And his goal against Chelsea, too.
John Bennett is a sports reporter for the BBC. You can follow him on Twitter @JohnBennettBBC
Be one of the first City fans to welcome our new signing Riyad Mahrez to Manchester City with our "Blue Carpet Welcome".
Riyad will be unveiled to fans at West Reception of the Colin Bell Stand on Thursday at 6:00pm.
We'll be hosting a very special Blue Carpet Experience with our City Square presenters Danny, Natalie and Hugh with music from our resident City Square DJ!
We'll have giveaways, prizes and exclusive competitions - as well as the chance to get close to our new signing.
Get there early and you could be one of the lucky ones to make it within the barriers and on to the Blue Carpet! We get underway at 5:30pm.